Mongolia Panorama

<![if !vml]>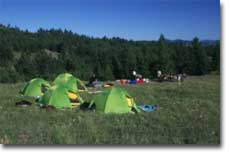 <![endif]>Mongolia remains one of the world's last truly undiscovered adventure travel destinations; a land of dramatic contrasts - from the rich colours of the Gobi Desert to emerald-green seas of rolling grasslands dotted with herds of horses and the snowy white dwellings of nomadic herders.
On this journey we discover the essence of Mongolia. Starting with an introduction to Ulaanbaatar the Nation's capital we travel by jeep, westwards, to the ancient capital of the Mongol Empire - Karakorum. Chinggis Khan chose the fertile plains of the Orkhon River valley to build his capital, and today the Erdene Zuu Monastery stands as a reminder of this once great city. From here we swing southwards, first though the forests of the Khangai Mountains, then into the northern Gobi desert. We enjoy free days meeting local herders, trekking, horse riding and many nights camped under starry skies.
Reds and yellows of the Gobi Desert make a fantastic change to the lush green of the mountains and camels have replaced herds of horses. We travel through the Gobi experiencing dramatic scenery, wildlife, sanddunes and more. This region is famous for dinosaur fossils and we will visit the flaming red cliffs of Bayanzag. Our journey culminates with a short camel trek - to travel like the locals - before returning to Ulaanbaatar.
A fantastic journey that literally takes in the heart and soul of Mongolia - a Panorama from the lush forests of the Khangai Mountains through to the rich colours of the Gobi - temples, camels, tents and more!
| | | | |
| --- | --- | --- | --- |
| Dates 2016 | Summer departures | | |
| | June through September | | |
|             | | | |
| Group              | 4 – 10 persons | | |
For itinerary, bookings and further information…