Both Sides of the Great Wall
Land of Genghis Khan

<![if !vml]>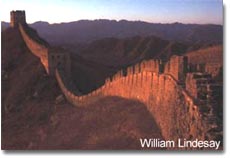 <![endif]>For the first time in travel history, a specialized journey featuring China and Mongolia has been arranged to provide an enthralling view of the Great Wall, the least known and most misunderstood of the world's wonders, and the cultural clash which created it. Both Sides begins in China, by exploring the Great Wall in its wildest most atmospheric form, as Wild Wall north of the Ming's ancient capital.

Our hosts are William Lindesay and Wu Qi (read about William's full length traverse of the Great Wall at (www.wildwall.com). After five days' exploring Wild Wall, staying at the couple's renovated and modernized Wallside farmhouse, we journey north to Mongolia to see the life of Genghis Khan's warrior descendants. After visiting key historical sights in the Nation's capital, Ulaanbaatar, we journey eastwards by jeep into the Khentii Mountains. Here the young warrior Temujin grew up to become the founder of the Mongol Empire - Chinggis (Genghis) Khan. Staying in traditional Mongolian gers we explore historical sights in this region by jeep, on horseback and by foot, gaining first hand experience of the lifestyle of today's nomadic herders.
| | | |
| --- | --- | --- |
| Dates 2016 | Spring/Fall | |
| | May and September | |
In 2006, why not bring to life one of the most incredible chapters in human history by joining this unique expedition, discovering stunning Wallscapes, ancient capitals, rolling grasslands and nomadic ways of life. Both Sides of the Wall should appeal to a range of travellers including outdoor enthusiasts, photographers, historians, archaeologists and orientalists.

For itinerary, bookings and further information…