Temples and Treasures
<![if !vml]>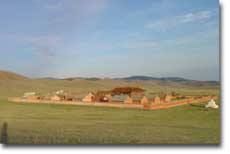 <![endif]>In the 13th Century, under the leadership of Chinggis Khan, the Mongol people created an empire so large that it stretched from the sea of Japan to the gates of Warsaw and as far south as Burma. Mongolia's history since this time has been turbulent, yet, this country which created the largest remains a jewel in an undiscovered treasure trove of remarkable temples, ancient burial grounds and the ruins of ancient cities.
On this cultural journey we explore the Land of Blue skies from a historical perspective, journeying through the seas of emerald green to visit remarkable cultural sights that have survived the passage of time.
Starting in the Nations capital, Ulaanbaatar, we learn of Mongolia's past and present by visiting many of the National museums. We then journey northwards to the fertile lands of Selenge to Amarabaysgalant monastery one of just a handful of Mongolia's monasteries which survived the Stalinist purges of the 1930's unscathed. After exploring the monastery and its surrounds we continue or journey westwards through the heartland of Mongolia - Arhangai province - often referred to as the Switzerland of Mongolia. Here we will find the lushest pasture, fattest animals and the tastiest airag (khoumiss). After visiting ancient burial sites we swing southwards to the former capital of the Mongol Empire - Karakorum - and the most significant monastery in Mongolia, Erdene Zuu ('Hundred Treasures'), before returning eastwards to the capital.
A fascinating journey through Mongolia's history from 2000BC until today that will appeal to the thinking traveller wishing to travel in just a bit of style - temples, treasures and hot springs with the comfort and security of ger camps each night.
| | | |
| --- | --- | --- |
| Dates 2016 | May through October | |
For itinerary, bookings and further informationů